Your wedding bouquet is one of the most important pieces of your big day. Not only does it add beauty and pops of color to your wedding photos, but it also sets the tone for your overall wedding theme. To help you choose the perfect flowers for your bouquet, we've put together a brief guide with some tips on what to look for.
First, consider the season you're getting married in and what types of flowers are in bloom during that time. If it's spring, opt for tulips or daisies. Summer is the perfect time for bright roses and hydrangeas. Fall brings deep reds and oranges like dahlias and marigolds, while winter is the ideal time for white lilies and poinsettias.
Next, determine what your wedding colors are. You want to choose flowers that will complement each other and match the overall color scheme of your event. Bright hues like pink, yellow, orange and purple all work well together, while more subtle hues such as gray, cream, and blush are also popular choices. If you're having a classic wedding, you can't go wrong with white roses or baby's breath.
Finally, consider your budget when selecting flowers for your bouquet. Some blooms tend to be more expensive than others, so it's important to know what you can afford before making any decisions. You may also want to opt for artificial or dried flowers if you're looking for a more cost-effective option. With so many beautiful choices, it should be easy to find something that works with your style and budget.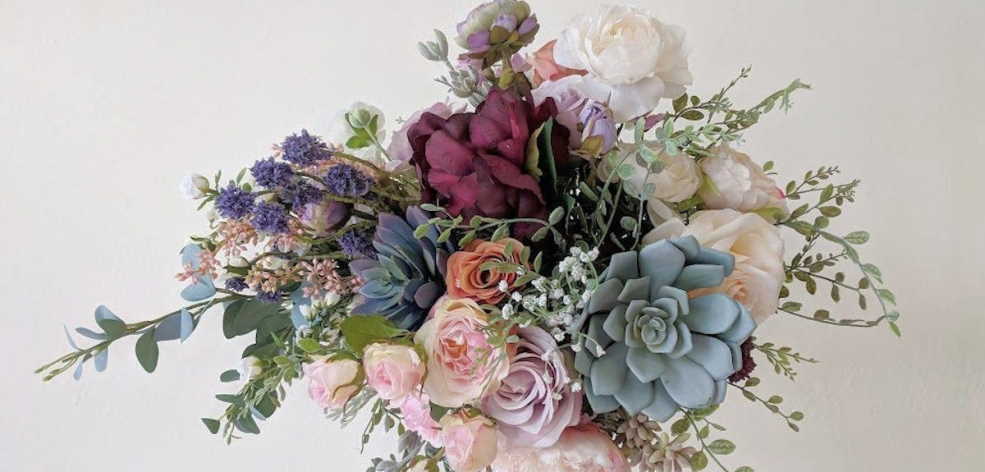 Choosing the Right Color Scheme for Your Bridal Bouquet
Once you have chosen the type of flowers for your bridal bouquet, it is time to consider the color scheme. The colors used in a wedding bouquet can set the tone and create an overall theme for the day. It is important to choose colors that will flatter your dress, go with the season, match with other elements of the wedding, and most importantly, reflect your personality.
When selecting a color scheme for your bouquet, you should keep in mind the other colors of your wedding. If all of the decorations are going to be pink and purple, then a white or cream bridal bouquet may not be the best option. On the other hand, if the wedding colors are classic black and white, you can choose a bright pop of color to add interest to your bouquet.
Consider what season your wedding is in when deciding on a color scheme for your bridal bouquet. For summer weddings, light and airy pastels look beautiful against the vibrant greens of nature. Bright shades like yellow, orange, and coral are also popular choices. For winter weddings, jewel tones like deep purple, navy blue, and ruby red create a cozy atmosphere.
Finally, choose colors that reflect your personality. If you're a bright and bubbly person then go for something brighter like shades of pink or peach. If you're more conservative, choose colors like ivory or cream that will compliment your dress. Or if you're an edgy bride, mix in some bold and unique colors like navy blue or emerald green.