Your wedding day is one of the most important days of your life, so you want to look and feel your best. One way to ensure that you look fabulous on your big day is to apply your own makeup. With a few simple tips, you can create a beautiful bridal look that will last all night long.
Start with a pre-makeup skincare routine
Before you begin applying makeup, make sure to wash your face and apply a moisturizer or primer. Moisturizing your skin will help the makeup go on smoothly and last longer.
Choose the right products for your skin type
The wrong foundation can cause your makeup to look cakey or patchy. If you have oily skin, pick a matte finish foundation with oil-free ingredients. For dry skin, opt for a hydrating liquid foundation.
Use a primer before applying your foundation
Primer is an essential step in creating a flawless base and will help your makeup last all night. Primer helps fill in pores and fine lines, giving you a smooth canvas to work with.
Prep your eyes with an eye makeup primer
An eye makeup primer is essential for keeping your eyeshadow and eyeliner from creasing or smudging throughout the day. Apply a thin layer of primer on your lids before eyeshadow to make sure your look stays put.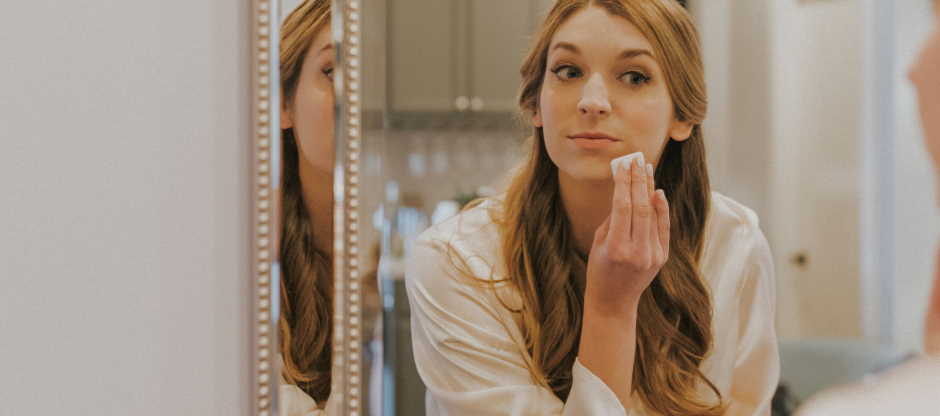 Pick a waterproof mascara
Since you'll be getting emotional and crying happy tears, it's essential to pick a long-wear, waterproof mascara that won't smudge or flake throughout the day.
Use finishing powder for a matte finish
Finishing powder helps set your makeup and add a matte finish, making it last throughout the night. Use a translucent powder for a natural look or opt for one that matches your skin tone for more coverage.
Don't forget the lipstick!
Choose a color that complements your dress and brings out your features. A long-lasting lipstick will help your look stay put throughout the night.